Do you know someone who goes to the extreme with outdoor Christmas lights? When I think of people who put up two tons of Christmas lights, I always think of that movie Deck the Halls. Danny DeVito's character is absolutely obsessed with making his house visible from outer space by covering every inch of it in Christmas lights, much to his neighbor's disdain. Well, this Whimsically Lighted Birdhouse Ornament inspired by the Deck the Halls movie may not be visible from space, but it will certainly be visible from across the street! It's that bright! So if you or someone you know is light crazy, this is the funny ornament for you! I'll show you how to make one, but first, let me tell you about the other 24 amazing Christmas movie-inspired crafts and recipes!
It's the most wonderful time of the year – time for the annual 25 Days Of Christmas Movies Blog Hop! #ChristmasMoviesHop
We have 25 talented bloggers gathered together to share with you all the wonderful crafts and recipes you can make this Christmas season, based off of some of the most beloved holiday classic films. There are 25 films to be inspired by for your holiday season, and 25 talented bloggers to aid your inspiration! If you love Christmas movies, you have come to the right place!!
Let's Meet The Hosts!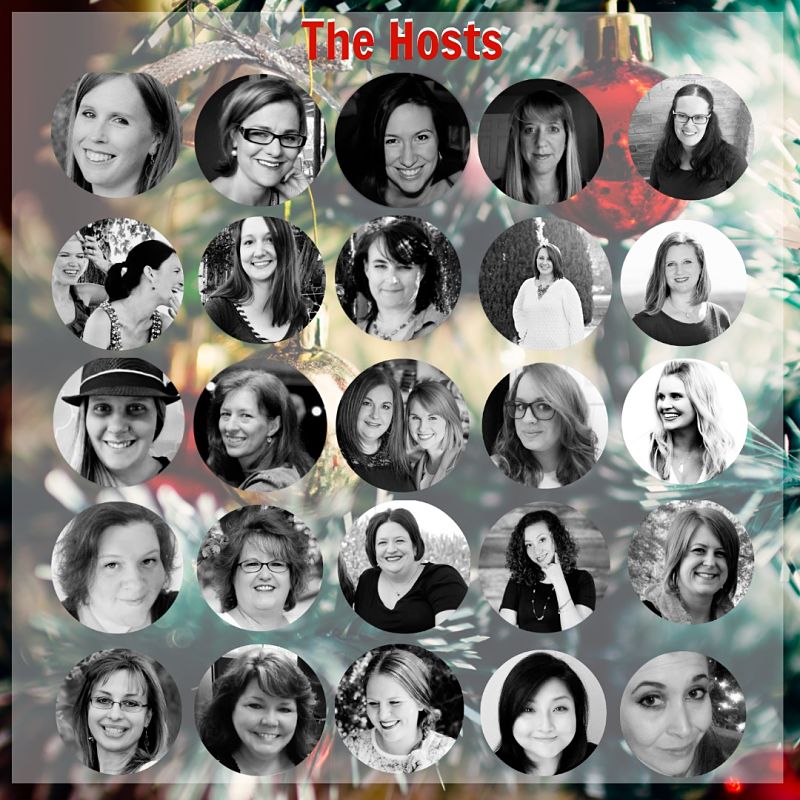 Megan ~ C'mon Get Crafty | Erlene~ My Pinterventures | Lindsay ~ seeLindsay
Marie ~ The Inspiration Vault | Maureen ~ Red Cottage Chronicles | Emily ~ Domestic Deadline
Stephanie ~ The Tip Toe Fairy | Rebecca ~ The Moments at Home | Michelle ~ Our Crafty Mom
Pam ~ P.S. I Love You Crafts | Sue ~ A Purdy Little House | Heather ~ The Busy Giffs
Erica ~ 5 Little Monsters | Valerie ~ Occasionally Crafty | Sara ~ The Holy Mess
Tina ~ Sweet and Salty Sisters | Sam ~ Raggedy Bits | Christine ~ Where the Smiles Have Been
Allie ~ Vigor it Out | Lyne ~ Lynn's Everyday Ideas | Evelin ~ Evey's Creations
Nina ~ Crazy for Cookies and More | Carrie ~ A Princess and Her Pirates
Jaclyn ~ The Dotted Nest | Kelley ~ Simply Inspired Meals
This post contains affiliate links, which means we receive compensation if you click on product or brand links and purchase anything. For more information, see our Disclosure Policy.
Whimsically Lighted Birdhouse Ornament
Materials
Small Wooden Birdhouse
8 Christmas Light Necklaces
Green Acrylic Paint
White Acrylic Paint
Thin White Batting
12″ Strong Christmas Ribbon
Hot Glue Gun
Glue Dots
Paintbrush
Staple Gun
Whimsically Lighted Birdhouse Ornament Steps
1. Paint the roof of the birdhouse green and the main part white. I painted two coats of the white and three of the green to get full coverage. Let it dry completely before moving on to the next step. Obviously this Lighted Birdhouse Ornament can be painted any color you choose, though.
2. Since I used Christmas light necklaces (50% off at Hobby Lobby), I could easily attach the small battery packs to the bottom of the birdhouse with Glue Dots. I chose Glue Dots because they have a strong grip, but I knew I could pull them off later to replace the batteries when needed. Attach your first battery pack so that the wires come up the back side of the birdhouse as shown.
3. Carefully hot glue each little bulb to one side of the birdhouse side, in a row. Don't worry about keeping the wire in between the bulbs taught or slack. Just glue the bulbs where they work and make sense. Since you're essentially working with a loop of bulbs instead of one long strand, you'll need to map out where you plan to glue them and so the end of the loop ends at an edge or at the back.
4. For the top front, I actually tucked the battery pack through the little hole/ door so I could use all of the bulbs on the front and front roof edge.
5. Repeat the hot gluing process with all eight strands. Again, you'll want to play around with your placement and map out where you plan to glue each loop.
6. Cut out a piece of thin white batting and then cut out the section right under the birdhouse. Hot glue the inner edge of the batting to the top of the bottom edge of the birdhouse, right below the last row of lights.
7. Now you'll cut out two squares on the right and left front corners as shown, creating flaps.
8. Turn the birdhouse over and fold the two side flaps over on to each other and secure with hot glue. Don't burn your fingers!
9. Now fold the front flap over on top of those and tack it down with Glue Dots. You'll want to be able to access the battery packs later, so this pocket is key.
10. Next, take a 12-inch piece of festive ribbon or rick rack and staple it to the top center of the birdhouse roof with a staple gun. I was going to use jute twine but decided the weight warranted a heavier material. Tie it off at the top.
That's it! It took me a couple of hours to glue on all of the bulbs, but I wasn't trying to go very quickly. In the end, I feel like this Whimsically Lighted Birdhouse Ornament turned out like I had hoped: funny. It's not a gorgeous or elegant ornament by any means, but I think it captures that little bit of crazy some people catch during the holiday season perfectly. Sometimes we do too much, we go over the top, we make our house visible from space, but as long as we're still having fun with our loved ones, that's okay once in a while.
Do you want to see even more funky DIY Ornament Inspiration? You might get a kick out of my Die Hard Christmas Ornament or if you want hundreds of ideas, visit All Free Christmas Crafts to see all of their fabulous ornaments!
Now let's check out the rest of the amazing Christmas creations!