Okay, so I just thought I was done with creating neutral Fall decor, but I came across this cute wood pumpkin I found at Target when I was putting away my Fall stuff. Oops! I remembered that I wanted to make it into a sign, but because the surface isn't smooth and level, I think I put it to the side, unsure of how that would work with my Cricut. Well, I figured it out (see below) and I think this Welcome Fall Wood Pumpkin Sign turned out really cute. If neutrals aren't to your taste, this would also look super cute in more traditional Fall Colors or even black. Let's see how easily you can make one, too!
This post contains affiliate links, which means we receive compensation if you click on product or brand links and purchase anything. For more information, see our Disclosure Policy.
Welcome Fall Wood Pumpkin Sign
Materials
Blank Wood Pumpkin Sign
Cream Colored Vinyl
Transfer Tape
Cricut Explore Air 2
Light Grip Mat
Weeder Tool
Scraper Tool
Scissors
X-Acto Knife
Welcome Fall Wood Pumpkin Sign Steps
1: Open a new project in Cricut Design Space. Search Cricut Access. to find "welcome fall" word art you like. Resize it to fit inside of your wood pumpkin. OR
I used an SVG I got as part of the Splendid September Bundle on Hungry JPEG, but you can search on there for fall sayings and find great ones for cheap.
2: Cut out the word art on your Cricut on some vinyl in the color of your choice. I used a pretty cream color that looks nice with the rest of my Think Pink Neutral Fall Decor and blends well with the wood of the pumpkin.
3: Weed the negative space from your cut vinyl, leaving just the lettering.
4: Carefully apply transfer tape to the vinyl lettering, smoothing out any bubbles as you go. Burnish (rub) the edges of all of the letters to make sure they're sticking to the transfer tape. Lift the letters off of the white backing.
5: Position the transfer tape over the wood pumpkin, making sure it is centered and level. Gently set it down onto the wood, smoothing it down from the center out. Burnish the letters onto the wood.
6: My wood pumpkin wasn't level, it had two raised pieces, so I had to take an X-Acto knife and slice the transfer tape AND vinyl along the edges of each panel of wood.
7: Once the strips of vinyl are all cut, burnish the letters onto the wood, panel by panel, then peel off the transfer tape. Make sure all the little bits and pieces of the lettering stay on the sign.
That's it! I was slightly intimidated to try and stick vinyl onto an uneven surface like this, but it turned out to be pretty easy to compensate. This Welcome Fall Wood Pumpkin Sign will be easy for you to recreate, even easier if your wood pumpkin has a smooth surface, lol. Okay, now I'm done creating Fall Projects for this season. Maybe. I have my mind on Halloween now and even Christmas, too!
Be sure to check out my other Fall Cricut projects like my Welcome Fall Cricut Shadow Box and my Wood Fall Leaf Ornaments.
Would you like to see some more gorgeous home decor Cricut projects? I've teamed up with 9 other crafty bloggers for our monthly Craft & Create Cricut Challenge to show you how you can make your own lovely goodies with your Cricut!
Fall Paper Leaf Wall Hanging / Wooden Pumpkin for Fall- Larger Than Mat Cricut / Felt Flower Grapevine Wreath / Chipboard Pumpkin / Wooden Fall Leaf customized with Cricut / Quick & Easy Fall Banner / Welcome Fall Wood Pumpkin Sign / How to Cut Die Cuts for Your Planner / Halloween T-Shirt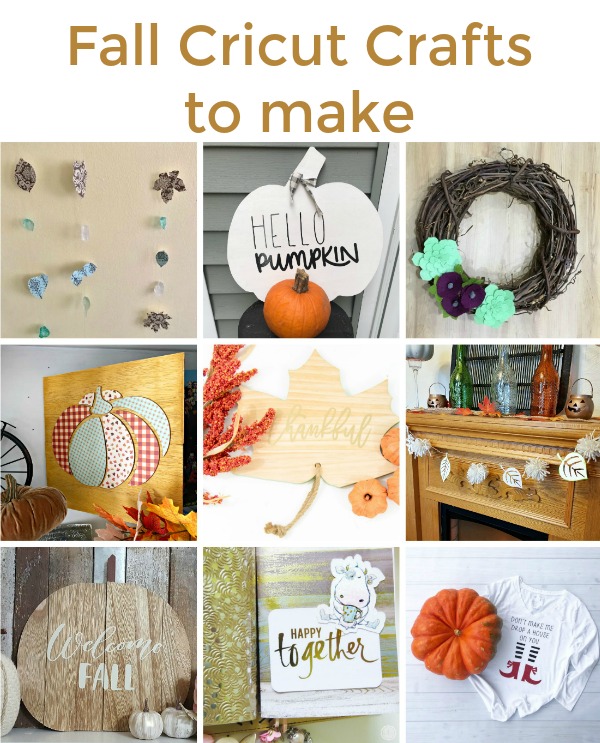 Hi, I'm Marie! I just built my first home (yay!) and I'm decorating it from the ground up. I decided to refocus my blogging efforts to include this exciting journey. Elle Marie Home (formerly The Inspiration Vault) will continue to provide great DIY and craft project ideas and tutorials, I'm just expanding my scope to include home decor, home improvement, and more advanced DIY projects.