For this month's Crafty De-stash Challenge, I dug into my bin full of Fall craft supplies. I found a cute paper mache pumpkin I think I got at Joann's maybe last, not sure. And since I've been making some new decorations this year for my Think Pink Autumn Decorations, so I thought making this Tissue Paper Decoupage  Pumpkin in a matching pink and gold would work perfectly. I also had gold tissue paper and some chunky pink glitter already in my stash, so this craft cost me $0.00, well, at least this year anyway. Shhh…we don't need to dwell on that. Let's see how simple this was to make.
This post contains affiliate links, which means we receive compensation if you click on product or brand links and purchase anything. For more information, see our Disclosure Policy.
Tissue Paper Decoupage Pumpkin
Materials
Paper Mache Pumpkin
Gold Paint
Paintbrush
Mod Podge
Sheet Gold Tissue Paper
Pink Chunky Glitter
Tissue Paper Decoupage Pumpkin Steps
1: Paint the pumpkin with one thin coat of the gold paint. Let the paint dry completely.
2: While the paint is drying, cut one sheet of the gold tissue paper into 1″ by 10″ strips.
3: Swipe a line of Mod Podge onto the painted pumpkin vertically and then lay a strip of the tissue paper down on to it. Gently smooth it out with more Mod Podge on the paintbrush. Repeat Step 3 with the other strips until the pumpkin is covered.
4: Randomly (or not) swipe more Mod Podge onto the top area of the pumpkin, around the stem. Sprinkle the chunky pink glitter onto the fresh Mod Podge. Let everything dry completely.
5: Apply an extra layer of Mod Podge or spray a sealer over the glitter. Let that dry.
That's it! I hadn't used Mod Podge in quite a while and I missed that weird smell. Am I the only one who likes how it smells? The paper was pretty easy to work with, so I may try using it again, but not in metallic. For this Tissue Paper Decoupage Pumpkin, the gold kind of lost its luster a bit and took on a slight green hue, even though I painted a gold layer first. I just lightly brushed over it with that same gold paint once it was dried, just to give it the right sheen. So if you were to try this project, what colors of tissue paper would you use from your stash?
If you love the pink and gold Autumn color scheme, be sure to check out my Welcome Fall Cricut Shadow Box or my Wood Fall Leaf Ornaments!
And if you'd love to see pages and pages of other amazing pumpkin project ideas, you have to grab some of the ideas over at Favecrafts!

Meet Your Hosts!
C'Mon Get Crafty | The Inspiration Vault  | Domestic Deadline
Modern on Monticello | This Autoimmune Life | Shoppe No. 5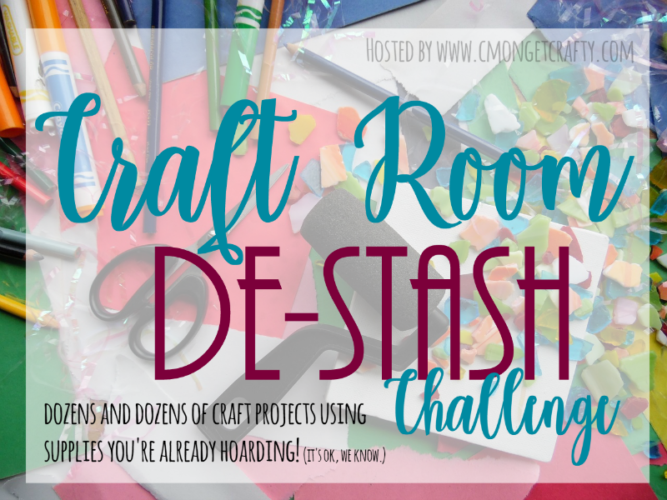 Every month a group of bloggers are challenged by C'Mon Get Crafty to create a new craft or project from their own stash of goodies! Everyone is allowed a $10 allowance for necessities to complete their project, but the bulk of it must be created from their own stash of goodies. Check out some awesome creations you might be able to make from your own stash! #CraftRoomDestashChallenge
[inlinkz_linkup id=797876 mode=1]
Hi, I'm Marie! I just built my first home (yay!) and I'm decorating it from the ground up. I decided to refocus my blogging efforts to include this exciting journey. Elle Marie Home (formerly The Inspiration Vault) will continue to provide great DIY and craft project ideas and tutorials, I'm just expanding my scope to include home decor, home improvement, and more advanced DIY projects.