I found the absolute cutest white picket fence vase/ container/ box thingy during my thrift store adventure last month when I found those adorable mini shutters. For only $2, it was a steal for a well-constructed wooden container. Of course, I knew immediately I was going to make a Spring Picket Fence Floral Arrangement with it.  How could I not? What's really awesome is that I have tubs and tubs of gorgeous faux flowers leftover from that Bohemian-themed wedding Aleisha and I designed last year, as well as some of that green floral foam on hand. So, in the end, this entire arrangement only cost me that initial $2. Not too shabby!

This post contains affiliate links, which means we receive compensation if you click on product or brand links and purchase anything. For more information, see our Disclosure Policy.
Spring Picket Fence Floral Arrangement Materials
Spring Picket Fence Floral Arrangement Steps
Okay, I will be the first to admit I'm no professional flower arranger, but I've watched Martha do it so many times I feel like I can usually fake it until I make it. I knew I didn't want it to look too dome-like, or like a perfect ball of flowers. I wanted it to look more like I had gathered all of those pretty roses in a bunch and then stuck them in the container. I feel like the taller, smaller flowers placed randomly also helped keep it from looking too sculpted.
1: Fill the bottom of your picket fence container with floral foam. I had this block of smaller blocks from Dollar Tree and they work perfectly for cutting to fit the last few spaces tightly. It's important to get a tight fit with the foam so the flowers don't slide around or fall out from their weight.
2: Push all of the leaves and greenery to the top of all the flower stems.
3: Start with your tallest, center flower and hold it next to the container to get an idea of where you want to cut the stem. I bent the stems to mark where to cut then I snipped it with the wire cutters.
4: Now poke it straight up into the foam.
5: For the next few flowers (I used four), trim them slightly shorter than the first one and then poke them in around the center flower, at an angle. I tried to make sure I couldn't see any gaps between those layers.
6: With the last few flowers ( I used three), trim them slightly shorter than the previous flowers and stick them into the foam at a more pronounced angle. You'll want to make sure you can't see any big gaps between the flowers.
7: Now trim some smaller flowers with a longer stem and poke them in "randomly" so the compliment the other flowers.
That's it! I feel like I made a huge score when I found this cute piece at the thrift store and I'm pleased with how my Spring Picket Fence Floral Arrangement turned out. I even got a "where did you buy that" from my husband, lol. Of course, he's thrilled any time I can make decor items on a dime and especially so when I can use supplies from my private craft store craft stash. So have you found any gems like this at your local thrift store lately?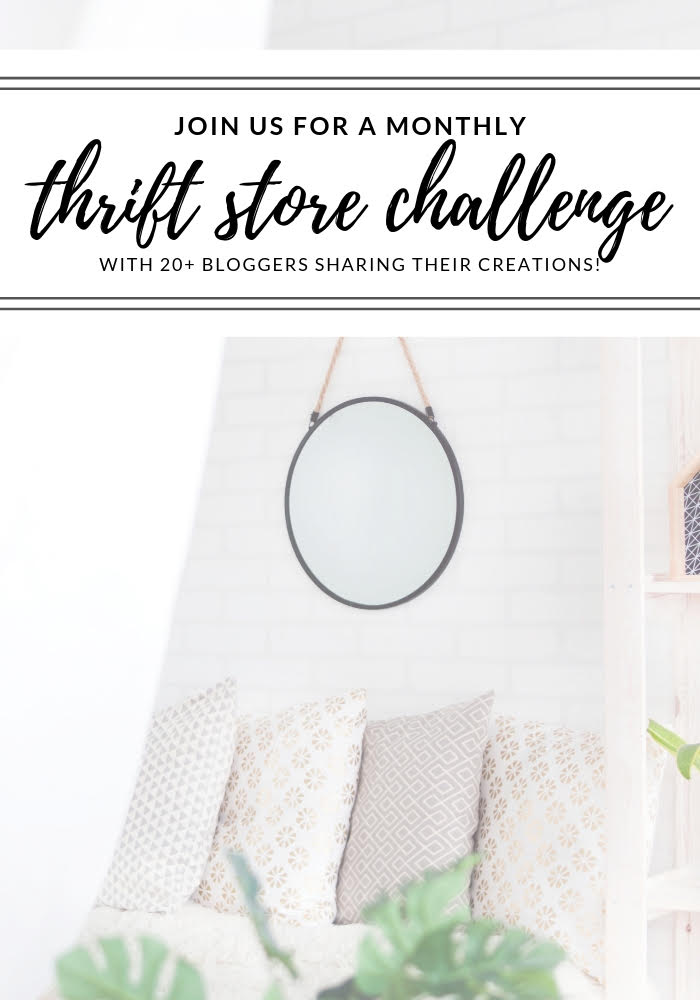 The Rules:
Upcycle an item(s) from a thrift store, resale store, or garage sale into a new piece of decor.
There's no monthly theme.
There's no budget to stick to.
Meet the Hosts
Angela | Simply Beautiful By Angela • Deborah | Salvage Sister & Mister
Angie | Flippin Fanchers • Denise | My Thrifty House
Jenny | Cookies Coffee and Crafts • Lynne | My Family Thyme
Meredith | Southbound Blog • Marie | The Inspiration Vault
Gail | Purple Hues and Me • Molly | Just a Little Creativity
Pili | My Sweet Things • Amanda | Domestically Creative
Ali |Home Crafts By Ali • Carmen | Living Letter Home
Emy | Semigloss Design • Jeanie | Create and Babble
Marie |DIY Adulation • Heather | Glitter On A Dime
Make sure you follow our board on Pinterest for more upcycled decor inspiration!
And now for more thrifty goodness!
Check out what my fellow upcyclers created below!
Hi, I'm Marie! I just built my first home (yay!) and I'm decorating it from the ground up. I decided to refocus my blogging efforts to include this exciting journey. Elle Marie Home (formerly The Inspiration Vault) will continue to provide great DIY and craft project ideas and tutorials, I'm just expanding my scope to include home decor, home improvement, and more advanced DIY projects.