Do y'all ever watch HSN on their special craft days? Okay, do you ever lose your ever-loving mind and buy stuff like crazy because of the amazing demonstrations they show with all kinds of nifty tools and supplies? I'm sure I'm not alone because a lot of their items sell out. Well, last year I went nuts over Anna Griffin's Card kits and die cut/ stamp sets. I got several items and got an auto-ship on shaker card kits and decoupage card kits. And then I just stacked them on a shelf in my craft room as they were shipped to me, leaving them untouched. I even still bought cards at the store like an idiot while I basically have my own greeting card store in my house. Until today. I have previously used some of her stamps and matching dies from HSN, however, to make this Handmade Embossed Mother's Day Card with great results.
Easily Make Ornate Handmade Cards from Kits
As part of the Monthly Craft Room De-stash Challenge, I decided to dust off one of the boxes and make some Ornate Handmade Cards from one of the kits. I didn't have to spend a dime since everything I needed comes in the kit aside from a tape runner. I started with Anna Griffin's Watercolor Floral Decoupage Card Making Kit.
The kit includes cards, envelopes, and embellishments to make 20 unique three-dimensional cards. I'm super impressed with just how much stuff comes in these kits! They thought of everything and more, including extras you can use on other cards outside of the kit. I'm not exactly sure what that stack of gold cardstock is supposed to be used for, but I imagine they are to be used with some of her dies if desired.
You'll also get a sheet with basic instructions and a few finished examples to get an idea of what they can look like. Notice I said can. One of the great features of these kits is that while you are given coordinating supplies, honestly, there are more possible combinations than I can count. You get two of each design or color of card base and other embellishments, but each of those can be finished with completely different results. I love that.
The flowers have letter and number codes on the backs to help guide you on the correct order to stick on the flowers.
I'm thrilled the kit also comes with little square foam stickers to help give the flowers some dimension. I stuck some of the embellishments flat on the card, though.
Can you believe how much the 3D elements make the flowers pop off the card?
Another cool feature is that the beautiful sentiment embellishments for the front of the cards are actually stickers and don't need any additional adhesive.
The pretty little bows add a nice touch to some of the cards and the ribbon they use is super soft and luxe feeling.
And finally, because there are so many different types of sentiments included in the kit, you can basically make a vault of gorgeous cards that are ready to go whenever you need them! The last-minute procrastinator in me loves that.
So how about you? Have any of you bought any of her kits before? If you love the look of Ornate Handmade Cards but don't know how to put everything together or don't want to buy all of the separate tools and embellishments, then card kits may be the answer for you. Each of these cards look and feel like they cost a small fortune, but once you divide the kit cost by 20, you're getting a much better deal.
And in case you were wondering, neither Anna Griffin nor HSN asked me to review this product and I wasn't compensated in any way, I just really love her card kits.
Now let's see what crafty projects the other hosts made from their stash!
Meet Your Hosts
Craftify My Love | Shoppe No. 5 | Purple Hues and Me
C'mon Get Crafty | Domestic Deadline | Across the Blvd | This Autoimmune Life
Modern on Monticello | The Inspiration Vault | My Family Thyme | Stone Cottage Adventures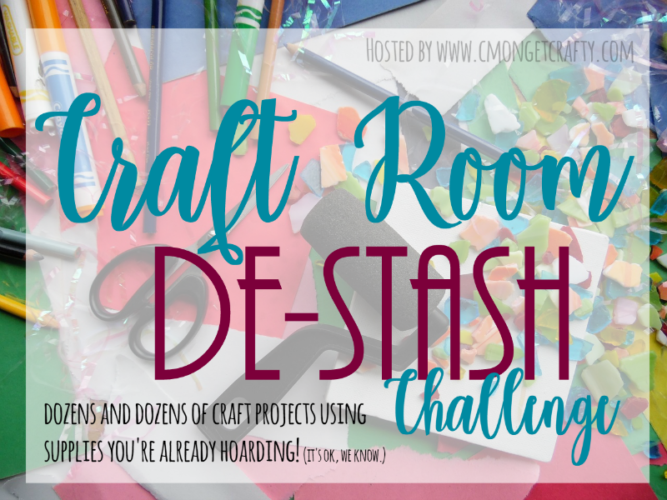 Every month a group of bloggers are challenged by me to create a new craft or project from their own stash of goodies! Everyone is allowed a $10 allowance for necessities to complete their project, but the bulk of it must be created from their own stash of goodies. Check out some awesome creations you might be able to make from your own stash! #CraftRoomDestashChallenge
[inlinkz_linkup id=794452 mode=1]