I'm thrilled that I could make this Decoupage Witch Hat Decor as my Halloween tree topper for this month's Craft Room De-stash Challenge using only supplies from my stash! I just had to pull out my Halloween craft supply bin and go shopping right here in my craft room. I found this cute paper maché witch hat at Joann's either last year or the year before, the napkins at Dollar Tree back in late August, and then the boa and flower I got at Dollar Tree a couple of years back at least. I'm trying really hard to not buy more seasonal supplies until I use what I've already bought, but they keep putting out cute supplies, especially Target. I might need a support group, lol.
This post contains affiliate links, which means we receive compensation if you click on product or brand links and purchase anything. For more information, see our Disclosure Policy.
Decoupage Witch Hat Decor
Materials
Paper Maché Witch Hat
White Paint
Paint Brush
Black & White Polka Dot Paper Napkins
Scissors
Mod Podge
Foam Brush
Black Mini Feather Boa
Black Rose
Clear Tacky Glue
Decoupage Witch Hat Decor Steps
1: Paint the hat white.
2: White the paint is drying, cut three napkins up into 3″ x 6″ strips. Make sure to remove the extra layer of napkin paper from each one.
3: Do the same with two more napkins, but cut them into 3″ x 9″ strips. You'll also need one 3″ x 3″ square piece of napkin.
4: You'll decoupage the brim of the hat first. Use a foam brush to apply Mod Podge to a 3-inch section of hat brim. Carefully lay down a section of napkin so that it starts on the crown of the hat, goes across the brim, and then over the edge and under the brim. Use more Mod Podge over the napkin section to make sure every part has glue. You may need to snip parts of the napkin touching the crown with scissors to make it lay flat.
5: Repeat this step all the way around the hat brim, overlapping the napkin pieces so there are no gaps.
6: Apply Mod Podge to the tip of the hat crown about 2 inches down then take the 3″ x 3″ piece and smooth it down over the point an around the tip with some more Mod Podge on a brush.
7: Now you can start decoupaging the longer strips onto the crown. Apply Mod Podge 3 inches wide from top to the edge of the brim. Start your strip at the brim edge and smooth it going up and around with the shape of the hat. Again, you'll want to go over the top of the napkin with more Mod Podge.
8: Let that dry for at least an hour until the Mod Podge has completely hardened and there are no more wet spots.
9: Now you can decorate the hat as you like. I chose to add a mini feather boa, a black rose, and a spider. I put a bead of clear tacky glue all along the brim/ crown crease and pressed the boa into it. I also glued the stems of the rose and spider underneath the boa.
That's it! This Decoupage Witch Hat Decor was a fun craft to make and I'm so in love with how the black and white polka dot napkins look on the hat. It almost looks like I painted it with black chalkboard paint and then put white dots on it in chalk. Part of me wishes I would have kept the hat band decorations a little simpler, but those suckers are gluuued on, so I will learn to love them. The hat does look too plain without anything on it, too, though. Either way, I think it makes a great topper for my Halloween tree. Yes, I have a Halloween tree, lol, why wouldn't I? It fits right in with my Spooky Black & White Halloween Decor.
Meet Your Hosts!
The Inspiration Vault | C'mon Get Crafty | Across the Blvd
Stone Cottage Adventures | Purple Hues and Me | Domestic Deadline
Modern on Monticello | Salvage Sister & Mister | This Autoimmune Life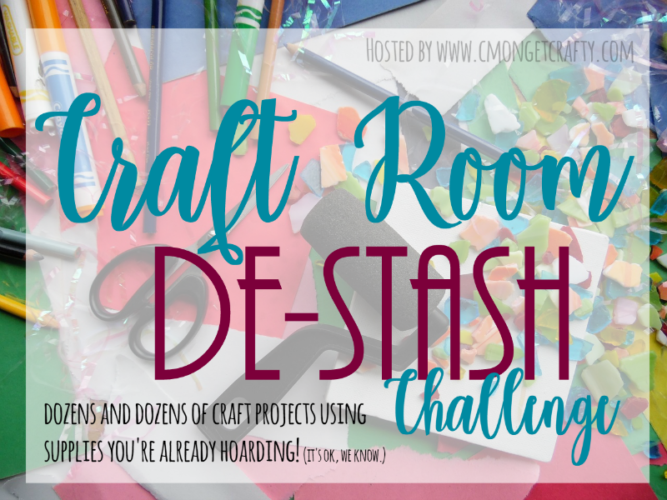 Every month a group of bloggers are challenged by C'mon Get Crafty to create a new craft or project from their own stash of goodies! Everyone is allowed a $10 allowance for necessities to complete their project, but the bulk of it must be created from their own stash of goodies. Check out some awesome creations you might be able to make from your own stash! #CraftRoomDestashChallenge
 [inlinkz_linkup id=802389 mode=1]