I usually jump at the chance to make a handmade card but I was extra excited to make this Personalized Baby Girl Cricut Card for my husband's coworker because I could use pink and also personalize it with her extra cute and underused name, Clementine. How adorable is that name!? I even knew the exact pink glitter cardstock I had on hand to use. While I can easily whip up a card with nothing more than a paper trimmer and some glue, I wanted to personalize the card with her name using the writing function on my Cricut cutting machine. So since it would be writing, I may as well let it cut and if it's going to cut, I may as well choose a pretty design from Cricut Access? If you give a crafter some paper…
This post contains affiliate links, which means we receive compensation if you click on product or brand links and purchase anything. For more information, see our Disclosure Policy.
Personalized Baby Girl Cricut Card
Materials
Personalized Baby Girl Cricut Card Steps
(This tutorial is geared towards the Beginner Cricut Crafter, pros can just skip ahead and see which cartridge and fonts I used to recreate the card.)
1: Open a new project in Cricut Design Space. Select Images > Cartridges> Classically Modern Cards.
2: Click on the Just Married Card and then Insert Images on the bottom right.
3: Now we're going to customize and personalize the card. While everything is still grouped together, click and drag the group until the card is the size you'd like it to be. I chose 5″ wide for mine. Make sure you're just measuring the front or back part of the card only.

4: While the group of images is selected, right click and select Ungroup. Delete Love Grows and Just Married then separate the images.
5: Recolor your images to match the color paper you'll be using so it's easier to keep each of the cutting mats organized. I used hot pink for the pink glitter. You recolor them by selecting the colored circle for each image on the right menu bar.
6: Create a text box and type "Welcome Baby" and change the font to Cricut's Everyday Fonts-Best of Times. Create another text box and type the name of the new baby you're welcoming. Change the font to Cricut's Elizabeth. Or use whichever writing fonts you like.
7: Drag the text boxes over to the front of the card and position and resize them where and how you like. Select both text boxes and the main card, then right click and attach. This will ensure the words are written exactly where you positioned them.
8: Select Make it and cut your card and envelope pieces. I used four mats so that I could load and cut them quicker, but one mat works just fine. Follow the on-screen instructions and make sure to select Glitter Cardstock from the custom menu for that pink glitter. Also, have your scoring tool and marker ready to load when prompted.
9: Fold and glue the envelope at the scored lines. Insert and glue in the pink envelope liner. I recommend using dry adhesive if you're using the craft paper–the liquids kept seeping through.
10: Now glue the pink glitter piece to the back of the flower cut out card front as shown. It's hard to photograph glitter, but this card really sparkled! Fold the card in half along the score line once any glue is set.
That's it! The lions share of crafting time for this adorable Personalized Baby Girl Cricut Card is spent in Design Space and the assembly is very simple and quick. As always with Cricut cards, part of the big appeal is the ability to customize and personalize. Maybe you don't want pink for the baby, just use your color preference. I think this card is also a great idea for a baby with an uncommon name. I have one child with a name that's never printed on anything, so whenever she gets anything personalized, she loves it a little extra.
If you love baby cards, you should also check out my Welcome Baby Cricut Cards and a Handmade Baby Shower Card. If you're looking for loads of ideas for baby cards, you definitely should check out All Free Paper Crafts. They have so many cute designs to browse through!
Would you like to see some more gorgeous Cricut projects? I've teamed up with 9 other crafty bloggers for our monthly Craft & Create Cricut Challenge to show you how you can make your own lovely goodies with your Cricut!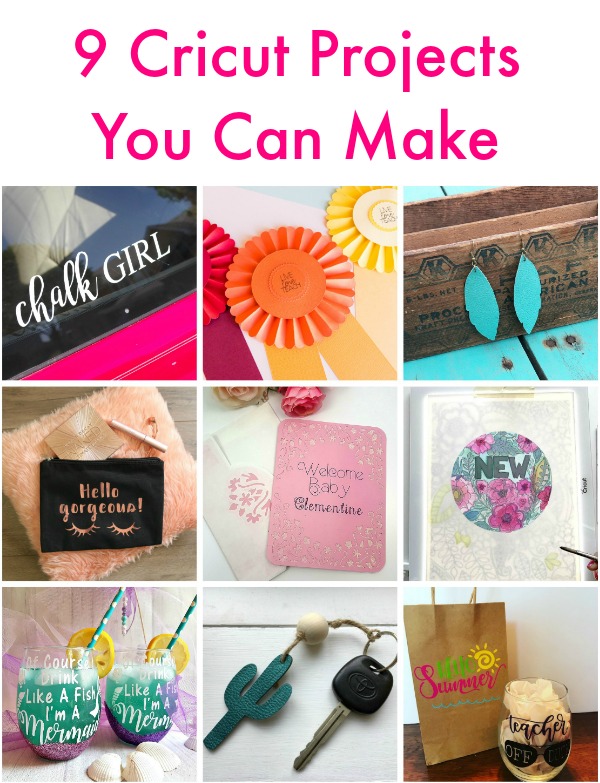 How to Use Cricut for Branding – Create & Babble
Faux Leather Cactus Key Chain – Real Girls Realm
Teacher Award Ribbons – seeLINDSAY
Decorated Gift Bags with the Cricut Maker – Cookies, Coffee and Crafts
How to Make Leather Earrings – Refresh Restyle
Hello Gorgeous Makeup Bag – The How-To Home
How to use a lightbox for tracing – Smiling Colors
Personalized Baby Girl Cricut Card – The Inspiration Vault
Mermaid Glitter Wine Glasses – Daily DIY Life